Here are some samples of the REVIVAL sound

Please note the sounds on this page are often studio out takes and soundboard recordings, and as such the balance between the instruments is not as you would hear at a live gig. Being live there are also mistakes and off stage noises, that you probably would not normally notice. We have included these recordings because we believe they capture that wonderful spirit that manifests itself at Revival gigs.
With some of the larger files we have not included a Wav file because it would be quicker for you to download an MP3 player from www.winamp.com and download the smaller MP3 files you will then be able hear the songs in high quality stereo. To play these files download them to your hard disk first. See notes
| | |
| --- | --- |
| | Videos |
| | Hot off the press |
| | Revival live at a typical "Gig". |
| | Rock & Pop Meets Barbershop |
| | From The Vaults |
Title


ENCORE, a brief sample from the album

Notes


Recorded at Andante Studio. The sleeve cover picture was taken by Ashley, from behind the drum kit as Revival took their bow at the end of the 2017 Bonington Theatre performance. You may just see yourself!
Walking in the Air
Instrumental featuring Geoff and his Fender Stratocaster guitar.
Are you Lonesome Tonight
The Elvis classic given the Revival treatment! Another stand out vocal from Ken.
I'm a Believer
This typical 60's song was fun to record and has great energy. We hope you enjoy listening.
My Special Angel
The closing track from the album is a favourite amongst the band. The vocal harmonies that support Ken's outstanding delivery are just what we aimed for. It's amazing what you can do if you are pushed hard enough. Thanks for cracking the whip Geoff!
This recording was engineered by Steve Potts and produced by REVIVAL
Title


SILVER, a brief sample from the album.

Notes


Recorded at Andante Studio. In celebration of 25 years, SILVER is a mix of tracks mainly chosen from personal favourites not previously recorded by the band.
Take it Easy
The opening track is a classic Eagles number. Ken's vocal and the band's backing stays true to the original feel of the song but is unmistakably Revival
Arms of Mary
Now a regular in the live set following the recording session.
I Love to Boogie
Revival play T Rex, whatever next! Again this has become a great favourite for those on the dance floor at gigs.
Peace Pipe
Another from the Shadows. The distinctive sound is captured perfectly by Geoff, while the rest of the band add to the feel of this number.
Always on My Mind
An Elvis classic interpreted beautifully by Ken with the full Revival sound behind him, bringing this great song to life. We hope you enjoy it.
This recording was engineered by Steve Potts and produced by REVIVAL.
Title


Live at Lark Hill, a brief sample from the album.

Notes


Recorded live at Lark Hill Village, New Years Eve 2013
Honey don't
A fairly new addition the the live set, this Carl Perkins number has become a must play number for the band.
Sugar and Spice
Rarely missed from a live gig and always a part of the sound check routine, this song just had to be included.
Foot Tapper
Another recent addition. This lively Shadows number is a favourite with Geoff and Alan and fortunately also goes down well with the audience too!
Walk of Life
One of Revival's more "modern" numbers featuring Jim on Keyboard
Wonderful Tonight
A Revival standard that had been omitted from the programme for a few months. The song was re introduced on New Years Eve following a number of requests for it to be played over the Christmas period. We hope that you enjoy it.
This recording was engineered and produced by Steve Potts. Steve managed to set up his recording equipment alongside the front of house sound system without the rest of the band initially being aware of its presence. The resulting recording captures the energy of the live performance. The technology available in the studio has been used sparingly, to create a CD that is easy to listen to, without the distracting sounds that a live musical performance generates.




Return to top of page

| | |
| --- | --- |
| Title | Notes |
| Celebration, a brief sample from three of the albums tracks. | Recorded live at the Bonington Theatre Arnold |
| Man of the world | Rehearsed specifically for this Theatre performance, the blend of Geoff and Jim's guitars with Ken's wonderful vocal just had to be included on this album. |
| On the Beach | Featuring Steve Cook, a good friend of the Band,who joined the 20th Birthday celebrations |
| Hippy Hippy Shake | A Revival and audience favourite, live, just as it should be! |
The recording includes songs performed by three of the Band's friends who helped to celebrate twenty years of REVIVAL The full details are included in the sleeve notes.
Revival Live at a typical "Gig".
If you are thinking of booking Revival check out this two files they show two sides of Revival.


Return to top of page
Rock & Pop Meets Barbershop
On Saturday 21st March 1998 Revival and the Lace City Singers staged a concert at Nottingham's Albert Hall, along with MC ex-BBC presenter Graham Percy. The 48 members of the Lace City Singers, and Revival put together a show that will never be forgotten by anyone who attended. The two acts put on a unique programme of two very different musical styles that worked magically to provide a musical treat for one and all.


Return to top of page
From The Vaults
Over the years the band has dabbled with recording studios. They never feel that they have managed to create the same quality of sound that they achieve every night on stage. However as some of these tracks show, they have their own unique way of interpreting some of the classic songs of the sixties. Here you will find tracks that Revival no longer play live or have only done off stage.
*On this site Wav files are 8bit Mono and tend to be large files approx 2mb plus
MP3 files are stereo and are usually less than 0.8mb.
You will have a media player as part of Windows you can download an MP3 upgrade from www.microsoft.com There are also many free MP3 players on the web www.winamp.com is one of the best. To play these files save them to your hard drive first.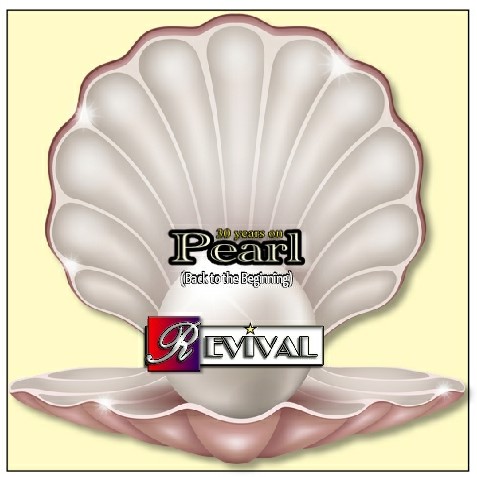 "PEARL" track list

Telstar.
What'd I Say.
Whole Lotta Shakin'.
I'm Gonna Knock on Your Door.
Sea of Heartbreak.
You Really Got Me.
True Love Ways.
F.B.I.
Money.
Bad To Me.
Love's Made a Fool of You.
How Do You Do It.
Peggy Sue.
Twist and Shout.
And I Love Her.
House of the Rising Sun.
You'll Never Walk Alone.
Midnight.