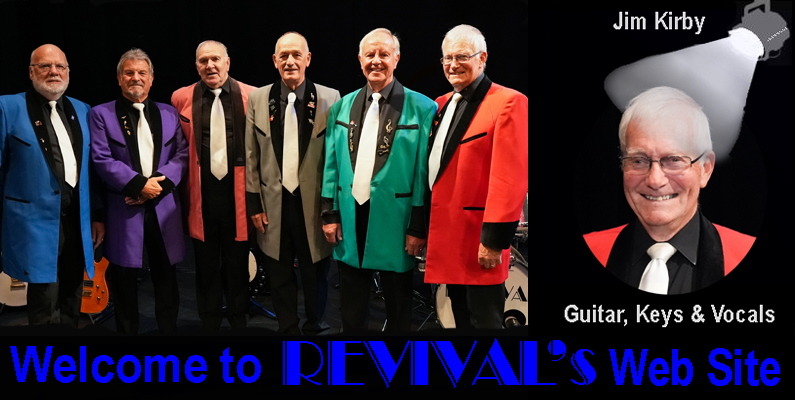 Revival have been performing now for over 30 years with three of the original line up still going strong!
Based in Nottingham they have entertained audiences across the country and helped to raise many thousands of pounds for charity.
The trademark drape jackets were worn on their first ever, "one night only", gig and while the home made versions have been replaced with tailored ones, they have become a familiar sight for their audiences over the years . The drapes were popularised in the late 1950's and became associated with Teddy Boys and Rock 'n' Roll music. REVIVAL are not primarily a 1950's rock and roll band although they can and do recreate the music from that era within their sets, music that leads nicely into a string of hits from the swinging sixties, an age in which most of their music was created.

"You're never to old to Rock 'n' Roll" or "Twist and Shout", well let's hope not anyway!
Revival hope that you enjoy their web site and look forward to meeting you at one of their gigs. Please come up and say hello.

The latest CD 'PEARL' is now available to order from Geoff and samples from the album can be found on our Sound and Video page.

This journey would not have been possible without your support.
Our sincere thanks to you all from Ken, Geoff, Steve, Jim, Alan and Kevin
General Data Protection Regulations (GDPR) Statement
G